"Chameleon" is a phrase that gets tossed around a little too much. It's usually in Los Angeles or New York, as critics, fans, and insiders hype a favorite artist who can do more than one style. But that should't dishonor the title. Some artists—the opportunity comes easier to movie actors—can wholly disappear into new personas as seamless as a wardrobe change. For some, it's just that, a different look, one after another. For others, it's much more, a nervous system shaken anew, belonging to a different fictional existence. Whether silly, dramatic, or action-packed, beholding on-screen actors creep into character after character is a strange pastime.
As intrigued as the rest of us, but with the artistic prowess to do something about it, Prasad Bhat of Graphicurry crafted a series of gifs in tribute to those who disappear into roles on the silver screen. Titled The Evolution, the series visually examines the filmography of popular actors. If one strikes your fancy in particular, don't worry; the Bangalore-based artist made printed versions available to purchase from the Graphicurry store.
See Bhat's colorful handiwork below.
Leonardo DiCaprio
Christian Bale
Robert De Niro
Johnny Depp
Matt Damon
Arnold Schwarzenegger
Will Ferrell
Jim Carrey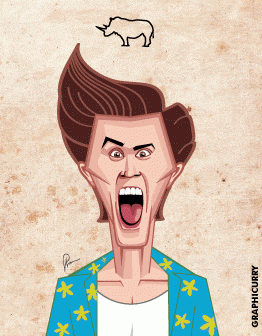 Tom Hanks
Jack Black
Bonus: Michael Jackson