There's such a thing as origami that looks good enough to eat. Just sneak an eager glance at what paper artist Raya Sader Bujana is up to in Barcelona to stir wonder in your eyes and a rumble in your stomach.
With exceptional detail, Bujana makes you do a double take with her realistic food and drink items made entirely out of paper. She's skilled for sure, and yet paper craft wasn't even what she studied in school. Her passion and drive just spreads across all things design, as she explains on her Etsy shop's page.
I studied architecture due to my love of art and design and have been drawing, painting, crafting and DIYing ever since I can remember, always ready to transform existing things into something special.
While Bujana' snackable pieces have stunned many, her abilities in the papery realm include a spread of styles, always with the same dedicated approach.
Everything I create includes something recycled or up-cycled. I like being able to see art in discarded things. I have come to define it as 'Your Trash is my Jewelry' and base my work on turning 'trash' into treasures. 
I'm a perfectionist and put a lot of detail and attention in my work, I truly believe in quality and well-made things, so I work as if I were making everything for myself, and get a heartwarming feeling at the idea of someone else loving and enjoying them.
Check out her Etsy shop Little Ray of Sunflower for eco-friendly origami jewelry, wedding and party decorations, as well as handmade origami bridal accessories, or get hungry by checking out her delicious paper creations below.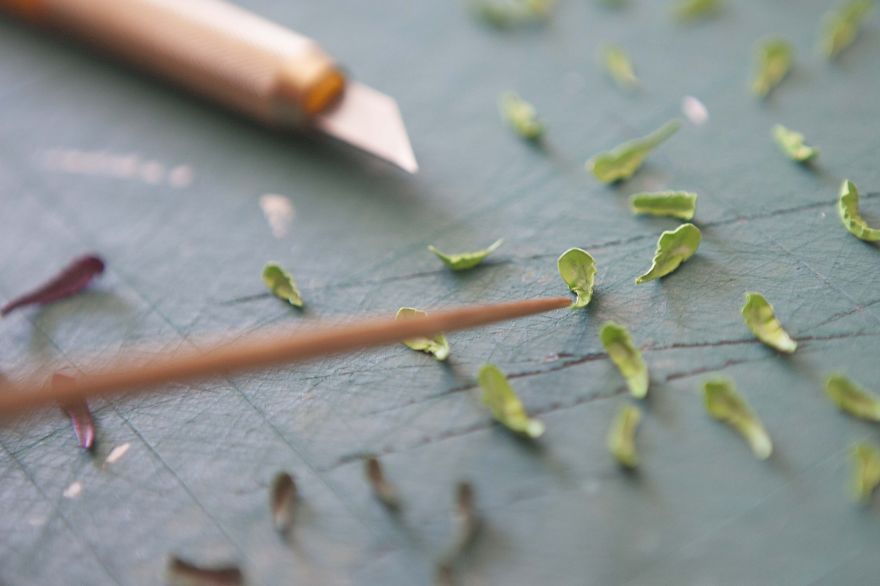 Want more inspiring content? Sign up for our newsletter.