Gratitude is good for you. That's according to common sense and years of scientific research. It can boost your mood, improve your sleep, and even reduce the inflammatory biomarkers related to cardiac health—this according to a 2015 study that asked patients with asymptomatic heart failure to regularly journal things they were grateful for 2 months.
While that's some pretty impressive evidence, not everyone is into the gratitude journal—and understandably so. It can feel forced, and it's easy to forget to do. Still, there's no doubt that bringing a little more gratitude into your life will do you wonders. Your relationships will be stronger (one of the most important elements of happiness), you'll maintain a healthier perspective, and you'll just feel good. If you're busy battling your day-to-day, here are 4 tips to make it easier.
Schedule it in: The best way to make sure anything gets done is to make time for it, but don't think of it as adding another thing to do. Instead, make it a ritual that you'll enjoy. Maybe you send out thank you emails every Friday afternoon. Maybe you jot down a few things you're grateful for while waiting for the barista to make your coffee. Attach it to an activity or make it something to look forward to.
Thank other people: No, you don't have to sit at your writing desk and thoughtfully pen a handwritten note with quill and pen. (You can hire people to handwrite them for you, though.) A quick email, simple Post-it, or shoutout on social is enough. The Send Thanks tool is easy and fun, or you can start with this free superhero-themed video thank you card from JibJab.
Thank yourself: People often "thank" themselves with material rewards, and while a trip to Cabo is nice, it's important to acknowledge the things you do on a regular basis that help yourself and others. (It also helps you build self esteem.) Did you finish all your grocery shopping? Respond to that nagging email? Return something borrowed? It's nice to see how much you contribute to those around you, too.
Track your gratitude: A hardcopy gratitude journal isn't everyone's cup of tea, tracking the things that you're most grateful for is incredibly centering. (If you're really anti-cheese, think of it as your "what didn't suck today" list). Try the Gratitude 365 app, where you can create lists and attach photos to create a digital record, which can be really helpful to browse on a tough day. And because gratitude is best shared, you might want to check out Thnx4, an app that lets you contribute your gratitude lists to UC Berkeley's Greater Good Science Center's research on gratitude.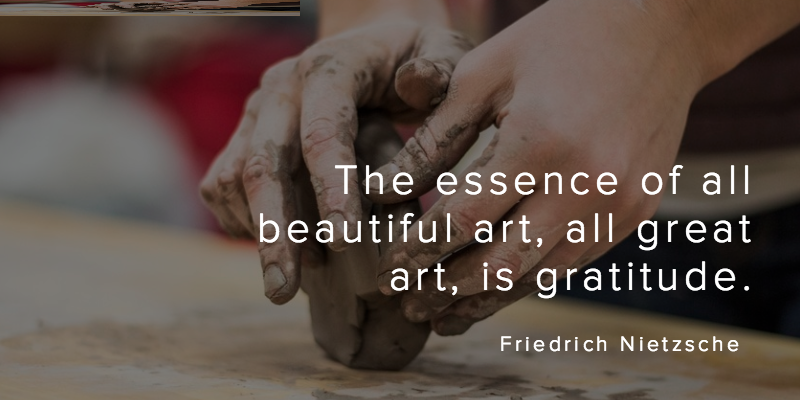 Looking for more ways to be a better human? 
Want more inspiring content in your inbox? Sign up for our newsletter.