Most maps depict a real place in the world, but that doesn't have to be the case. Sometimes images that look like maps can be excellent tools for getting an idea across.
We've rounded up 9 exceptional 'fake' maps that either represent a fictional place, are used to uniquely visualize information or totally redefine what a map can be. Let's explore.
1) The Progress of the Roman Empire (Visualized as if it were the Amazon River)
This map from 1824, found in the excellent David Rumsey Historical Map Collection, shows the growth of the Roman Empire from its roots to the height of its power in A.D. 107 (during the reign of Trajan). To illustrate this, the many societies that were absorbed or conquered by the Romans during their expansion are depicted as the tributaries feeding South America's Amazon River (the largest in the world).
2) This Augmented Reality Sandbox
This hands-on exhibit combines a real sandbox, a projector and a Microsoft Kinect to create an incredible interactive mapping simulation. Dig in the sand, change its height, and the system automatically draws color-coded topographical contour lines. A brilliant way to teach geographic, geologic, and hydrologic concepts.
3) The Map of the Internet
You've probably seen graphic designer Martin Vargic's impressive Map of the Internet 1.0. This world imagines what the Internet might look like if it were depicted by countries on a vintage map. No surprise here, Facebook and Google end up being very large.
4) The Isle of Knowledge
Most likely based on a map from the classic fantasy novel, The Phantom Tollbooth, designer Marian Bantjes' map 'Isle of Knowledge' comes from her book 'I Wonder'. Here she illustrates a beautifully detailed quest for knowledge (including the many peaks and valleys along the way) for a column in U.K. illustration magazine Varoom.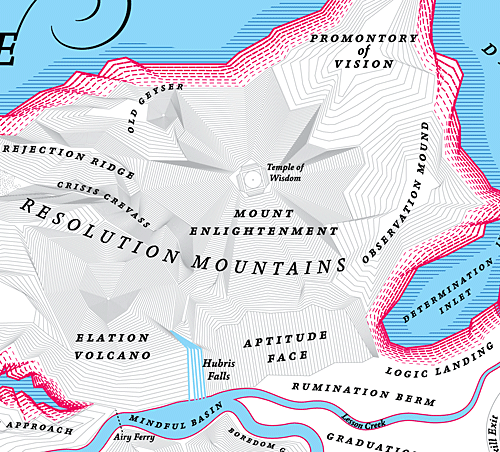 5) A Fanciful Map of the Foot
Can you imagine geography simply from written words? Roger Anson provided a description of an island which was used by Kenneth Field to create this silly map (as you'll notice, it's shaped like a foot). See if you could figure it out using only the description at the ICA Commission on Map Design.
6) A Map of Physics
This fantastic map from 1939 transforms an entire academic discipline into a fictional country. It brilliantly shows how different aspects of physics interact, while hinting at an as-yet undiscovered unified theory for the subject.
7) Map of an Englishman
Artist Grayson Perry created a map of himself… or at least his inner world. His almost brain-shaped island is illustrated in a vintage style and surrounded by seas called Schizophrenia, Delirium and Anorexia Nervosa. Even on land things are challenging, with locations called "Sissy-Wet-Pants", "Revenge" and "Wedding Video" (is that good or bad?).
8) The Republic of Sans Seriffe
Before the world became obsessed with typography and its terms, The Guardian ran an April Fools' Day piece in 1977 featuring a a seven-page hoax supplement about the Republic of Sans Seriffe "published in the style of contemporary reviews of foreign countries, commemorating the tenth anniversary of the island's independence, complete with themed advertisements from major companies." The catch, of course, was that all the places were puns or plays on words relating to printing. The hoax was so successful it has been reused many years since.
9) This Guy's Birthmark Map
When was the last time you met someone born with a map on their body? Redditor Mneneon traced his birthmarks with pen to create a fictional and completely awesome map. See a whole collection of photos here.
Need help creating incredible infographics? Let Column Five hook you up.