Your daily links after the jump! [Read more...]

Strap on your shoes, more links after the jump! [Read more...]
Shaping a squeaky clean map of the world using just place names to define boundaries, Chartis Graphein's poster over at Design Ahoy is really well done. The letterpress print has embossed longitude and latitude lines, adding to the many subtle details of the surprisingly information rich map. It's the perfect way to memorize all those places you've been dying to visit. Find the 20 by 29 inch print available through Design Ahoy's Etsy store.
With protesters in Egypt still filling the streets, fighting in many Libyan cities and much of northern Africa in some state of upheaval, Visual News artist Robbie Douglas was inspired to create a pencil drawing, titled Breaking Chains, that illuminates the situation and it's vast scale. [Read more...]
If you still think the Internet is free, un-policed and safe from being turned off, think again. With the recent shut down of Egypt's Internet amidst the countries mass riots, the sobering idea that our Internet world is more fragile than expected becomes more apparent each day. In the case of Egypt, the Internet was almost entirely shut down in only a matter of hours as this analysis by Ars Technica explains. These 4 informative infographics from yuxiyou.net put the current state of freedom on the net in perspective:
[Read more...]

Whether they be Smith's, Kelly's, Garcia's, Lee's or Leblanc's, America is truly a melting pot of cultures. Showing the most prolific surnames in the country, National Geographic has put out an interactive map showing the distribution, quantity and origin of last names in different regions. To see what names hit the top of the list in your area, see the map at ngm.nationalgeographic.com
[Read more...]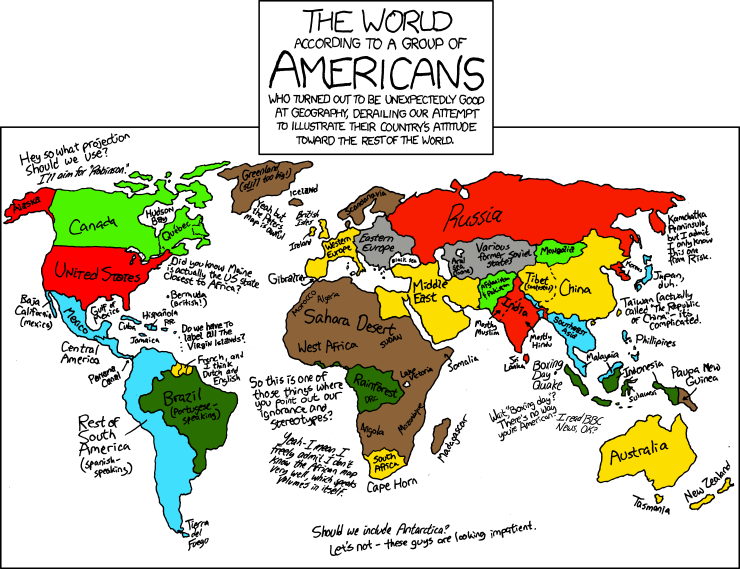 In an attempt to show how woeful the average Americans knowledge of world geography is, brilliant comic Randall Munroe of xkcd.com randomly selected some Americans to interview as they walking home one night. When he asked them to fill him in on their understanding of the world, the results were surprising. [Read more...]
With the Census now complete and the counts for each state finalized, now is the time to divide the seats in the House of Representatives among the 50 states. In a process called apportionment, the seats are divided based on the population figures from each state. Through the animation below, the U.S. Census Bureau explains how apportionment works and how the apportionment formula is applied to ensure equal representation for all, just as the constitution originally dictated.
Growing alongside the US population, which currently sits at 308,745,538 people, the number of seats in the House has increased from 65 Representatives in 1787 to it's current number of 435, set in 1913.
To view the history of apportionment and population through the last century, be sure to check out the highly detailed interactive map widget after the video.
[Read more...]