Dutch designer Karel Martens is well-known for the brightly colored abstract shapes that can be found on his book covers, letterpress monoprints, and typographic posters. His book Printed Matter, which was published in 1996, was highly sought after by many designers since it contained a collection of his works since the 1960s. In his recent foray into the 3D world, Martens applied his fondness for colors and abstract shapes in a video and installation for his new exhibition at P!, a gallery in downtown Manhattan, New York.
"Ultimately the thing that carries through all of Karel's work is a deep and profound interest in abstraction, but abstraction that can actually still have meaning," says Prem Krishnamurthy, a founding partner of NYC-based design firm Project Projects and direction of P! gallery. "For Karel, abstraction, like in music, constructs some kind of new world."
Martens worked with Krishnamurthy for almost a year to design pieces for Karel Martens: Recent Work, which opened at the beginning of September of this year. One of the original pieces he created for the show was Three Time (in Blue and Yellow), a kinetic clock that is sort of a continuation of the kinetic sculptures he began working on back in 1968. The clock has three circles that rotate at different speeds: a circle representing the second hand, one representing the minute hand, and one for the hour. As the circles spin, the colors overlap and converge to create new shapes while displaying time in an abstract way.
The most remarkable piece in the collection, though, would have to be the interactive video piece. The screen is covered with abstract shapes that respond to the viewer's movements. The gallery also has an assortment of analog interactive pieces, like a wall covered with printed pixels that can be rearranged by the user, sort of like a DIY wallpaper.
"He comes from the Modernist movement," says Krishnamurthy. "So since the 1960s he's been thinking about systems of representations and systems of typography, but basically systems of making meaning. It works on different levels: in the monoprints he's creating an image for use, but for the other works he's creating the means by which other people might create an image."
If you're in the area, make sure to swing by the gallery to check out the exhibit.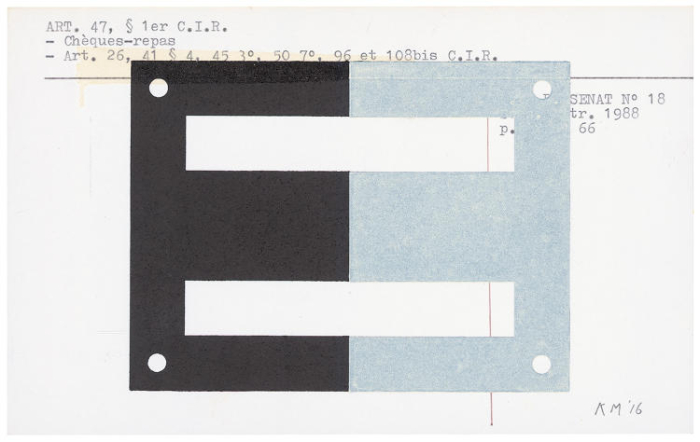 [Via: Co.Design]