Ever wonder why you click your pen or doodle while you're thinking? According to Hungarian psychologist Mihaly Csikszentmihaly, the drive to fidget might be something that curbs boredom during times of deep concentration and may possibly be fundamental for job performance and productivity. That's probably why the Fidget Cube has been so successful on Kickstarter, acquiring more than $500,000 in a week during its debut.
Brother Matthew and Mark McLachlan—designers of Duet, the Apple Watch accessory—are the creators of the Fidget Cube. The cube features an array of buttons that allow you to fidget in any manner you'd like. There are five "clicker" buttons that can be pressed over and over, a "gliding" button that is modeled after the analog stick on a game controller, a "flip" switch, a "breath" indentation that allows you to rub the cube like a worry stone, a series of gears that you turn like a combination lock, a ball that you can roll, and a "spin" dial that circles like an old telephone dial.
The brothers were inspired to create the Fidget Cube by their own fidgeting impulses. "Once we had decided on the general concept of Fidget Cube, we spent time observing how people around us consciously (or subconsciously) fidgets," the McLachlan's write. "We then each made a list of all the different actions we'd want on something like this. We omitted things that we didn't feel would be universally used, and ended up with the current set of component you see now."
The cube was designed to fit all the mechanical functions while being low-key. The brothers even included a stealth mode to allow fidgeters to fidget quietly in meetings or in public. "For instance, on the face that features five different buttons, we intentionally designed three of them to audibly click while the other two can be pushed down and spring back up without making any noise," they write. "Furthermore, there are components such as the ball-and-socket and worry stone, which are completely silent when being used. The last thing we want is drama in the workplace."
You can pick up your Fidget Cube on preorder here.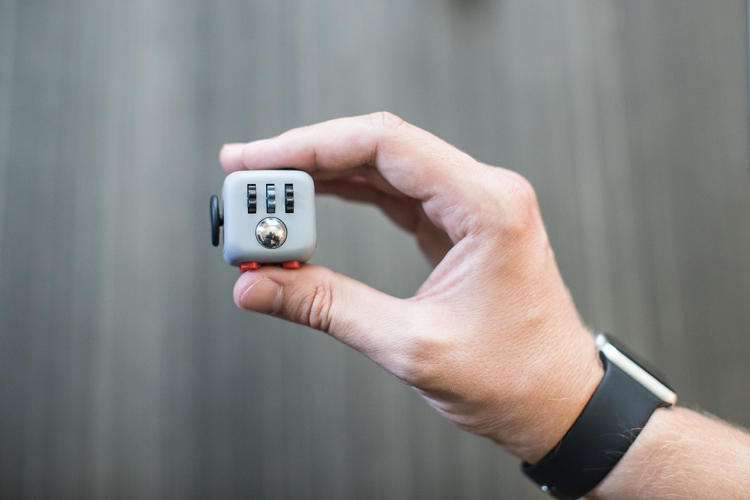 [Via: Co.Design]