Tinybop's "Explorer's Library" app series teaches kids about subjects like anatomy and geology, even experimentation. Their latest app, Skyscrapers, lets kids build and manage their own skyline in order to learn about features of skyscrapers. The first step is to create the skyscraper by dragging floors, green for residential and blue for offices, into the building. From there, the app teaches the user about how elevators work.
Skyscrapers explains the basic concepts of elevators, a normally complicated subject, in an easy to understand way with the help of cutaway views of the building and interactive elements that allow kids to learn how elevators work in business-residential buildings. As kids develop their buildings, adding floors and increasing the height, the skyscraper's architecture automatically adjusts to support the height.
The app allows kids to simulate disasters, such as earthquakes, hurricanes, and lightning strikes, to learn how aspects of the building work to keep it from crumbling to pieces. The earthquake simulation, for example, shows kids how the spring-with-damper base isolators work as the building shakes, while the lightning simulation shows the path of electricity to illustrate  how skyscrapers ground the electricity.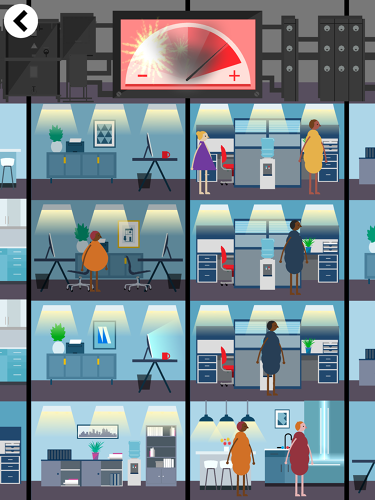 Mike Ellis, an artist for Herman Miller and the New Yorker, illustrated the app, and although they may not become experts on skyscrapers, kids can still learn how the adult world works and gain some knowledge about the world around them.
[Via: Co.Design]