June is LGBT Pride Month, a cause we care deeply about. In 2014, Column Five (Visual News' parent company) partnered with Parker Trewin to raise money for the AIDS/LifeCycle charity bike ride, a 545-mile trek from San Francisco to Los Angeles to raise awareness about HIV/AIDS. The partnership resulted in the My Status is Not a Secret campaign, a movement to encourage everyone to get tested, get educated, and get active in the fight against HIV/AIDS. Now, Trewin is aiming to raise funds for another ride. To do so, he has created a new social campaign to share the alarming HIV/AIDS stats that reveal why funding and research is so desperately needed. Here, he shares more about his campaign.
Over the course of the last four years, I've had the opportunity to raise over $100,000 to support the great work done by the Los Angeles Gay and Lesbian Center and San Francisco AIDS Foundation.
This couldn't have been done without the tremendous partnership with Column Five and Visage.co. It has afforded us the opportunity to get the story out in powerful ways, including a long-form video project and website called My Status Is Not a Secret.  (See the trailer here.)
In truth, fundraising this year has been more difficult with candidates, causes, and nonprofits all competing for funds. This challenge got me thinking about why people should give to my charity when there are so many worthy places to give. So, using the Visage graphics platform, I produced 21 infographics, which laid out the case. I'm excited to share them here. 
I called the campaign "Not Like Me" because what became clear was that, while I'm doing well managing my HIV, many others living with the disease aren't as fortunate. Many don't have access to drugs, care, a stable job, a roof over their head, a support network, etc. I am fortunate. During this campaign, I've added to my knowledge and learned some things about people who "aren't like me." These stats reveal the dire situation.
Nearly 25% of new infections are with kids 13-24 years of age.
And while over 40% of kids admit to having sex before the end of high school, only 22 states mandate sex education. Nearly half of those require abstinence as part of their HIV training. It seems like our educational system is, in this case, letting our kids down. To be successful, we need to arm our youth with information that aids prevention and healthier choices.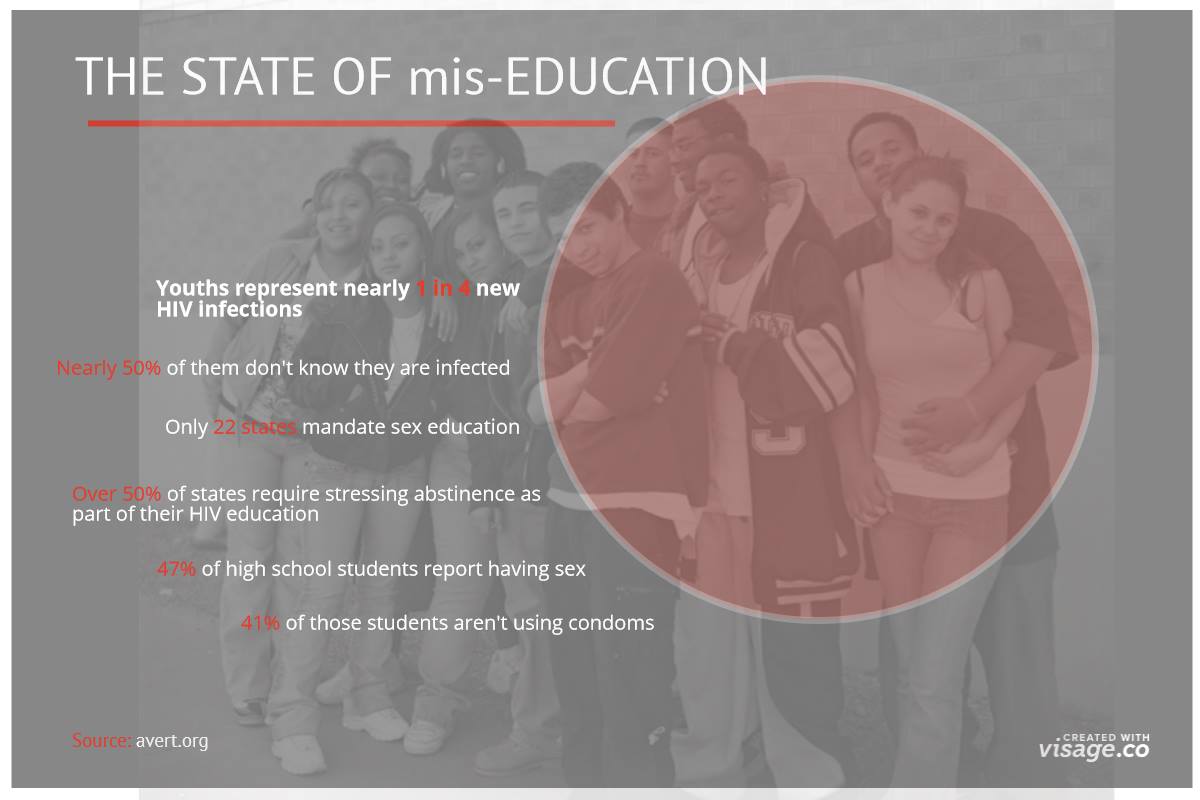 More stats: African-American men are 6.7 times, and Latinos are 2.3 times, more likely to contract HIV versus white people like me.  
On a brighter note, 60% of HIV+ people in San Francisco are effectively managing their HIV, yet that number is inverted nationally. This is why the San Francisco AIDS Foundation, and the city at large, is a model. The programs are working.
Truthfully, I've still got a long way to go to hit my $46,000 goal, but I'm extremely proud of this campaign. It's been a valuable reminder to me about why I do the work I do, and why partnerships with companies like Visage.co is so important. In 2016, we still need powerful ways to get the message out.
If you'd like to help fight against HIV/AIDS, visit my site to donate.