There is a wealth of information being collected around the world at any moment, and putting that to use can reveal useful patterns or everyday information difficult to see without masses of data. These 10 impressive visualizations give us a real-time look at everything from the weather, to the internet and outer space. Lets dive in.
Earth
Get a big picture, entire Earth view of weather as it happens. From air speeds, to wave directions and particulate matter (at a variety of altitudes) this visualization lets you keep your finger on the pulse of the planet.
Erqqvg (What's happening on Reddit in real-time)
Curious to see how fast things are getting upvotes and downvotes on "the front page of the internet"? This visualization gives you that, and an idea of the commenting frenzy that happens when a topic hits Reddit's front page.
FlightRadar24
Not only does this map show almost EVERY SINGLE commercial flight in the air at one time, it also allows you to track the location and status of individual flights to see their estimated arrival time.
ISS Tracker
Did you know you can often see the International Space Station with the naked eye? This map shows the stations current location, where you can see it relative to the horizon, and where it will be in the future. Time for a night walk?
Listen to Wikipedia
This downright soothing visualization shows revisions to Wikipedia as they happen, set to music controlled by each update. Use it to learn about new topics you never new existed, but be warned, the Wikipedia procrastination hole goes deep…
No Homophobes
"Homophobic language isn't always meant to be hurtful, but how often do we use it without thinking?" reads this vis which counts the many times homophobic language gets thrown around on Twitter. But it doesn't leave off there: it also calls out the people using that language by posting a continuously updating feed of offending tweets.
The One Million Tweet Map
See what areas are talking about what with this searchable map of ALL Twitter activity.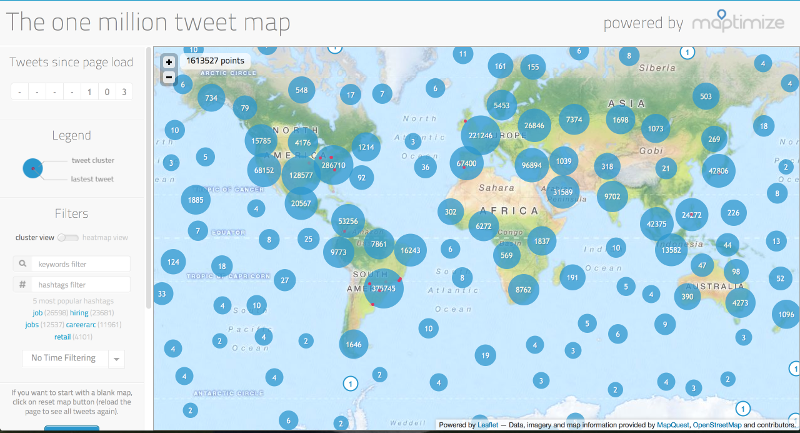 SFLiveBus
Is your bus right around the corner? If you live in San Francisco you're in luck. This map shows bus locations in real-time all over the city. Now you can grab that last minute Visual News post, knowing your bus is still 6 blocks away…
Wind Map
Part visualization, part art piece, this map cuts off anything outside the continental US, focusing on wind patterns across the landscape. Visit the site to see replays of big events like Hurricane Sandy:
Windyty
This Earth-wide real-time climate viewer gives you a wide look at weather, from wind, rain and temperatures, to snow, clouds and barometric pressure. This could easily be your one stop weather station.
(HT evanengel)